We are not a hotel, not a motel, not a farm stay, not a bed and breakfast, not
only a roadhouse, but we ARE an Australian outback mixture of all these things.
While we are a general service center, even more important to your fun &
comfort is our Beer Garden, "Kimberley North".
Cold beer, good food and on cold nights, a log fire all
combine to ensure it is the hub of the North Kimberley.
LOCATION:
On the Gibb River / Kalumburu Road, North Kimberley,
Western Australia. Just 59kms North of the junction and
only 1 km off the Kalumburu Road.
NEAREST TOWNS:
To the East: Kununurra 360 km, and;
To the West: Derby 470 km.
TRADING PERIODS &TIMES:
We are open for business during Australia's northern 'dry' season. The road to us is impassable and therefore officially closed during the summer 'wet' season. We do not open for fuel until the road is legally opened by the local shire.

The following guide may assist in your planning;

April to November*
Fuel & shop - from 8am to 5pm ONLY
Camping - check in - 8am to 7pm

1st May to 30th September*
Room Accommodation, Licenced restaurant All meals – Lunch, Dinner & breakfast Beer Garden and Bar

Approximately 1st May to the end of August*
Scenic Flights and day treks to Mitchell Falls*

*The above are our intended trading dates each year BUT road and/or weather status can alter these at any time, often with little notice.


HOW TO GET TO US:
See the Location Map, Roads and Travel Tips pages (menu, left side) for full details.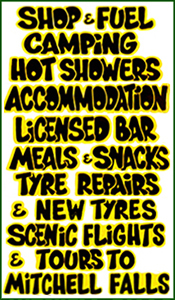 A QUICK LIST OF WHAT WE OFFER:
Shop, small general store

Fuel, diesel and unleaded. (sorry no gas)

Accommodation Rooms

Homestead Camping area, good ablution facilities

Beer Garden and dining area : dinner and breakfast

Beer garden lunch: 11.30 am to 2 pm daily

Licensed bar and Beer Garden


Tyre repairs (normally available until late September)


Scenic aeroplane flights to the Mitchell Falls, Prince Regent River and magnificent coastline. Or, fully guided on- ground day trek or overnight stays to see the Mitchell Falls (approx. May to the end of August, on demand)

Free Caravan and Trailer storage (on the basis "all care - no responsibility")
INFORMATION ENQUIRIES:
Please read our site for full details about all available and lots of handy general information which answers all the questions frequently asked about travel in this area. Many other useful site addresses on the links page, plus more links scattered throughout the site on relevant pages. Please click on location map, travel tips and road & weather conditions to answer most questions.
You will find if you read our site in full, then few questions will remain unanswered.

PLEASE NOTE: Regretfully, we are totally unable to forecast when the road will open; this is not our decision. We are also unable to help you at all with current road condition reports.

Road Conditions of the Kalumburu Road or the Mitchell Plateau track ( Port Warrender Road ) please visit the Shire of Wyndham East Kimberley (SWEK) site [ http://www.swek.wa.gov.au ] and download their Road Condition Report.
If this does not answer your question please contact SWEK phone: (08) 9168 4100.
If you want info on the Gibb River Road, then it is not the local Shire, instead you need to look at the WA Main Roads Department web site. https://travelmap.mainroads.wa.gov.au/Home/Map

BOOKINGS:Accommodation rooms and dinner
Office hours: daily 8 am and 5 pm.

Phone (08) 91 614 326

Email: info@drysdaleriver.com.au

BOOKINGS: FLIGHTS AND DAY TRIPS TO THE MITCHELL FALLS

Phone: (08) 9148 2600

Email: drysdale@shoalair.com

Please browse the site for full details of all available and also lots of handy general information which answers the questions most frequently asked about travel in this area.

Drysdale River Station is the last refueling stop
on your way to the magnificent Mitchell Falls

© Copyright 1999 Drysdale River Station. All rights reserved.
Information contained on this website may not be reproduced for publication,
without the express permission of the site owner.