Roads & Travel Tips

Link here to notes on [ HIRE VEHICLES ].

Each year our rainy or (wet) season varies in length and intensity. The roads into this area are all dirt and the large rivers can remain uncrossable for some time after the rains cease. We open as soon as the Kalumburu Road is legally opened.

The Shire of Wyndham East Kimberley ( SWEK) is responsible for the Kalumburu Road. So please check with SWEK on (08) 9168 4100 or look at their web site. If the road is closed, you should not be here so regretfully you will not be served with fuel. The roads can be very good or very rough; it depends on when last graded, and your perception of 'rough'.
If you are planning to travel in April or May, it is important that you check road conditions with Main Roads for the Gibb River Road or SWEK for the far North Kimberley roads prior to your departure. Visitor Centres can also help. Many properties also close in October or November, so do check to avoid disappointment.
Unfortunately there is no way we or anyone can tell you what the road is like at any given time, so please don't ask us.
Normally the road is expected to open to Drysdale by about early May.
It is simply not possible to estimate weather or road conditions in advance. All road travel times given are only a very rough guide.
Please be aware that conditions do vary greatly.
If you read all the info on our site you will have an understanding of why it changes so much.

A 4WD vehicle is recommended for road clearance and to cope with the possible corrugations.
Always carry lots of spare water in case of breakdown and being stuck on side of the road.
You should ALWAYS carry two good condition spare tyres and be capable of changing them. Check your jack, wheel brace etc. before departing from town.

Note: Any travel times quoted here are a very rough guide only.
None of the times given allow for the stops you will wish to make at other properties, gorges and places of interest, or for meals and travel breaks. The roads are all dirt and condition will depend on when last graded.


Please be aware that Drysdale to the Mitchell Falls and back same day is NOT suitable for a day trip. While the distance is not huge the times required for the drive time and also the walk combine to make it a very rushed day and not at all enjoyable. Also allows no time to visit Munurru. Remember you also do need a UV permit to visit the Mitchell plateau, these are available at the roadhouse shop.


Drysdale River Station to
Mitchell Falls car park. 4 to 6 hours.
(Then 4 km walk or a chopper ride with Helispirit.)
Kununurra to Drysdale River Station 5 to 7 hours.
Derby to Drysdale River Station 7 to 9 hours.
Broome to Drysdale River Station 9 to 11 hours.

The shop is open 7 days a week 8am to 5pm and can provide most of your needs, please be aware that we do not stock fresh vegetables or salads.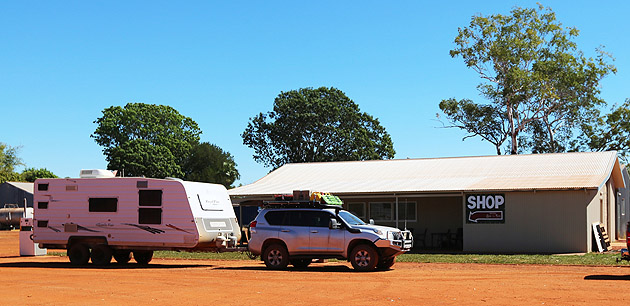 Mitchell Falls Area
Self drive to the Mitchell Falls or you can you take a coastal scenic flight for a great view of the coastline but the option is also available to do a ' Day Trek'. This is a direct flight, then 4WD to the start of the Mitchell Falls walk. Includes a guided walk & picnic lunch at the Falls. Also includes a one way helicopter flight with Helispirit.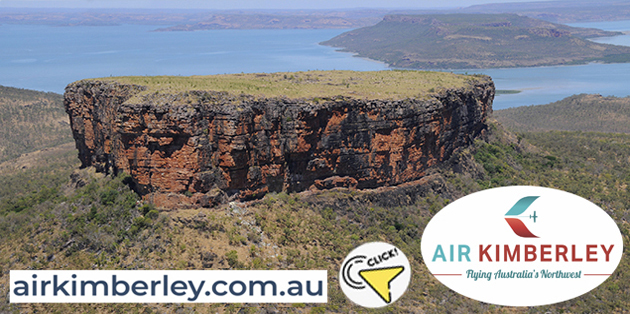 You can gain more information on travel and other accommodation
opportunities in our region, via our [ Links ] page (menu, left).

TRAVEL TIP : for those using hire vehicles; before planning a road trip to the Mitchell Falls ensure that your hire company permits travel to the Mitchell Plateau, as many don't.
Vehicle Breakdowns & Accidents - North Kimberley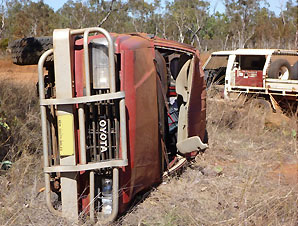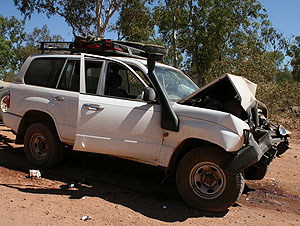 Many vehicles are written off as a result of road accidents on gravel roads. The personal trauma, together with monetary costs and ruined travel plans are huge. Almost all accidents are caused by driver error and excessive speed.
SLOW down and drive carefully
In the North Kimberley you are always a long way and a long time from any help. You could easily be on the side of the road for hours or even overnight waiting for help. Every season there are many rollovers simply because people go too fast especially on a corners and lose control on the corrugations. It takes only a second to happen and your brakes won't work well on the loose gravel.
If you have had an accident and need help: For a medical emergency if you carry a satellite phone call 000. For medical emergencies all locals will also try to help.
If you don't have a satphone, hopefully someone will soon come past who may be able to help. Many tourists and all commercial tour operators carry a satphone.
If you need help but it's not life threatening, ask to borrow a phone from a passer-by to call your insurance provider, or get a lift with another traveller to the nearest place where you can use a phone. If possible don't leave your vehicle totally unattended, because unattended vehicles are often very quickly stripped of tyres and any valuable items. Sending notes to tourism providers asking them to contact RAC etc is a waste of time, your insurance company will want to talk only to you.
Any pick up truck would have to come from either Kununurra or Derby and this WILL cost a lot of money and could take one to three days, depending on how busy they are. For breakdowns, in many instances a pick up truck may be your only option. No tow truck will depart for any job without either a job order from your insurance provider or advance payment from you.
Drysdale River Roadhouse can only offer tyre repairs.
Sorry NO vehicle repairs available under any circumstances because we do not hold a licence to do so.